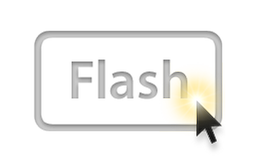 Please welcome the newest additions to the ClickToFlash family: the Safari 5 extension and ClickToPlugin! Thanks go to
Marc Hoyois
and
Matt Ball
for bringing us these flavors of ClickToFlash!
Features:
Block evil Adobe Flash


Flash only when you want it.

One-click Flash loading


View blocked Flash with just one click.

Higher quality YouTube


Play videos in QuickTime, not Flash.

Website Whitelist


Allow Flash on certain websites.
Lowered CPU usage


Browse the web more quickly.

Better battery life


Browse the web longer on your laptop.

Less fan usage and heat


Browse the web quietly and cooly.

Automatic Updating


Download updates when they're ready.
Ever wanted to get rid of the scourge of the web that is Adobe Flash, but still retain the ability to view Flash whenever you want? With ClickToFlash, you can! Using ClickToFlash, all of those icky Flash bits that have infected most webpages on the internets are replaced with a nice, smooth gradient and the word "Flash" set in a nice, pleasing font. When you want to view the Flash, just click on it!
The advantages of ClickToFlash are numerous. Since Flash isn't loaded until you specifically ask for it, your CPU usage will stay at normal levels when browsing the web. This has tons of benefits: web browsing stays speedy, your Mac laptop won't get as hot, and your Mac's fan won't come on as often. In fact, we guarantee* that ClickToFlash will quintuple your battery life and that it will protect those precious parts of your body on which you rest your laptop! (*note: not actually guaranteed)
Although similar to Flashblock for Firefox and Camino, ClickToFlash offers features over and above what Flashblock offers, and it offers them for Safari. Best among them, ClickToFlash supports viewing all those ADORABLE meowing cat videos, annoying dog videos, and hilarious rickrolls from YouTube without using Flash at all! That's because YouTube also offers H.264 videos, which are used when viewing YouTube on the iPhone. With ClickToFlash, you get access to those same, higher quality videos.
Come join us! The web is so much better without Flash.
Which version should I download?
We have three flavors of ClickToFlash: a Safari 5 extension, an internet plug-in, and ClickToPlugin. Here are the various advantages and disadvantages of the three flavors:
Safari 5 extension: this is an extension built with the tools specifically designed for extending the functionality and UI of Safari 5. Advantages: good UI citizen, easier to install, easier to update, adds dedicated preference pane in the Extensions tab of Safari's normal preference panel, works on Windows. Disadvantages: only works with Safari 5.0.1 and higher (NOT in Safari 5, which has a bug), does not work on Mac OS X 10.4 Tiger, works only in Safari (not any other Mac OS X app).
Internet Plug-In: this is the original flavor of ClickToFlash, a Cocoa webplugin. Advantages: works on Mac OS X 10.4 Tiger as well as 10.5 Leopard and 10.6 Snow Leopard, works with Safari 3 and higher (including Safari 5), and works in ALL Mac OS X apps that use WebKit (not just Safari). Disadvantages: slightly funky UI (e.g.: the ClickToFlash preference pane is separate from Safari's preference pane), does not work on Windows, slightly harder to install and update.
ClickToPlugin: comes with all the advantages and disadvantages of the Safari 5 extension listed above (since it is ALSO a Safari 5 extension), but it allows you to block more than Flash! It allows you to block all content that requires a plug-in, including Silverlight and Java. One click loads the content, just like the ClickToFlash you know and love!
Donate:
Donating to ClickToFlash is currently disabled. Our hosting costs are covered! Thanks for thinking of us, but if you want to help, please simply recommend ClickToFlash to others!
If you want to help offset ClickToFlash's GitHub hosting costs, you can donate US$6 via PayPal: